Bespoke Kitchens
Lakeland Kitchens exclusively create bespoke German factory made LEICHT kitchens to fit and complement existing space in any size or type of home. Our luxury kitchen designs consider the light, space and ambience of your house. They are always designed to work well within your home and integrate your personal tastes. All of our kitchens are made to order in Germany and are innovative, sophisticated and of extremely high quality.
Every kitchen is uniquely made with LEICHT's unique carcase concept and the highest level of engineering. See our kitchen innovations, a selection of inventive solutions which make the most out of every kitchen.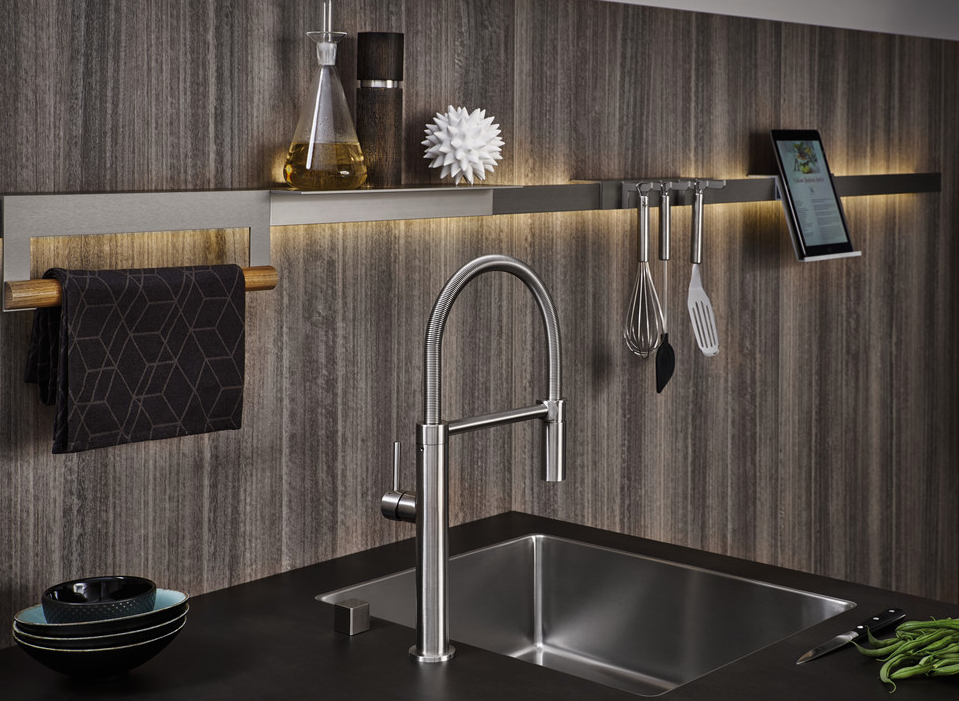 LUXURY BESPOKE PERSONAL KITCHEN DESIGNS
Smaller kitchen areas can be carefully designed to create a sense of space. This can include using handle-less cabinetry, brighter colours, and innovative kitchen storage solutions to make the very best out of your kitchen's space. Our inventive storage solutions can be designed to fit tight corners and other tricky areas.
Furthermore, depending on your tastes and love of cooking, we can create areas that specifically cater to you. For those who have more appliances, utensils or specific baking gadgets, we design clever bespoke solutions that are aesthetically pleasing and functional. Additionally, we will help you choose the perfect material depending on how much, and what type of cooking you enjoy.
BESPOKE COLOUR IDEAS TO SUIT YOU AND YOUR HOME
Our designers choose shades that work in harmony with your existing space. This could mean helping to imitate natural light or creating a sense of character. Moreover, depending on your style and what you want to get out of your kitchen, we will help you choose a personalised colour scheme to truly suit you: whether it's a space for entertaining or for someone who loves cooking, or a place for spending time with family.
See below for specific colour inspiration:
Grey – extremely fashionable and trendy, greys exude opulence and effortless contemporary.
WHITE– clean and fresh, whites offer a timeless brightness and are great for kitchens which need to create an aura of space.
Blue – bold colour that can be used in accents throughout a more understated kitchen, or for a truly bold statement, across all the cabinetry.
Red – for passionate cooks who love to entertain, reds create a feeling of warmth and welcome.
Green – associated with life and health, greens can add a touch of zest to a grey or white kitchen and can create an ultra-modern space for cooking and eating.
Partners
We partner with Siemens and Miele, and can advise on the best products and appliances to fit your space and culinary needs. 
The very best technology from our partners, combined with award-winning bespoke kitchen concepts means we have the perfect formula to help you create your dream custom kitchen.